Solar Contractors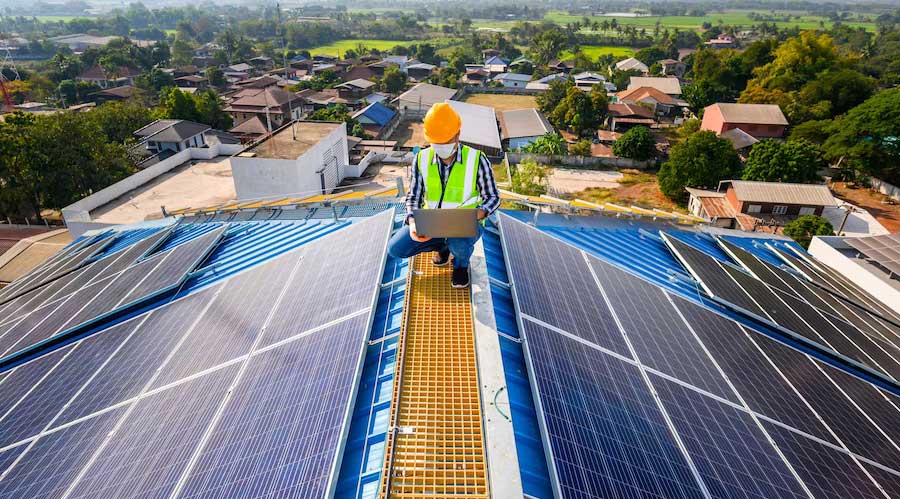 Solar power is becoming popular due to the many benefits it offers. Not only is solar environmentally friendly and sustainable, but it helps homeowners save money on their energy bills. It is important to hire an experienced and reliable solar contractor to ensure the installation process is done correctly. That's where Sun Path Electric comes in – we are one of the
best solar contractors in Seattle and the Puget Sound
.
Our team of experienced professionals has a proven track record of providing high-
quality solar installations to homeowners and businesses
alike. Our president serves on the board
Washington Solar Energy Industry Association
, and works hard to push solar policy foward. Our head electrician is NABCEP certified, and has been installing solar for over 18 years. We understand that every home and business is unique, which is why we take the time to assess each property to create a customized solar proposal that meets our clients' specific needs.
When it comes to installing solar power, there are many factors that need to be taken into consideration, such as the angle of the roof, shading, and the amount of energy required. Our team of solar experts has the knowledge and expertise to analyze each property to determine the optimal solar power system that will provide the most power while ensuring the best return on investment for our clients.
We pride ourselves on our commitment to providing the highest level of customer service possible. We are proud of our 5-star reviews across all platforms. From the moment you contact us, we will work closely with you to ensure that we understand your needs and are able to meet them to your satisfaction. We believe that transparency and open communication are essential to building a successful partnership, so we will keep you informed every step of the way. 
Our team of technicians is fully trained and certified, ensuring that every installation is done to the highest standards. We use only the best quality materials and equipment to ensure that our solar power systems are durable and long-lasting. Additionally, we stay up-to-date on the latest technology and advances in the solar industry, are NABCEP certified and continuously improving and innovating our services and products.
If you're in need of a
solar power installation
, look no further than Sun Path Electric. We are the best solar contractor in West Seattle. We are committed to providing our clients with the best quality workmanship and customer service possible, ensuring that they are satisfied with their solar power systems for years to come.
In addition to our exceptional solar installation services, we also offer ongoing maintenance and repair services to ensure that your solar power system continues to function at its best. Our team of experts is available to answer any questions you may have regarding your solar power system and to provide ongoing support.
When you choose Sun Path Electric as your solar contractor, you can rest assured that you are getting the best possible service and support. Contact us today to schedule a consultation and see how we can help you make the switch to solar power.