Rachel Malloy, 6kW Redmond Solar System
We had a wonderful experience with Sun Path Electric. We'd thought solar was out of our reach for us, but Sun Path created avenues for change that put reducing our carbon footprint firmly in our control. From the initial estimates and seamless installation to the final paperwork and walkthrough, I couldn't have been more pleased with their professionalism and quality. We were even able to work through the logistics of a secure power supply, and future expansion into battery backup. I care a great deal about the future I am leaving to my children, and it's wonderful to know that a company and it's workers show just as much care towards our community and our homes. I continue to recommend them to friends and neighbors, and I still smile every time I pull into the drive to see the sun shining on my new panels.
Jason & Abby Supplizio, 7.9kW West Seattle Solar System
Sun Path Electric is the company you want to hire for your Seattle solar project. We've owned our home for 15+ years and in that time we've completely remodeled our kitchen, basement, 2 bathrooms, updated all of the electrical and all of the plumbing. We've hired many different companies and, beyond any doubt, working with Sun Path was by far the best experience we've had. Everything went smoothly. Why? Sun Path Electric took to the time to educate us, answer all of our questions, and - this is a big one for us - clearly communicate the project costs and timeline. Unlike so many contractors we've worked with, Sun Path Electric never left us in the dark wondering if they were going to show up today and when the project was going to be completed. In fact, Sun Path Electric always let us know what was going on in the schedule and, yes, the project was completed ahead of schedule and without any cost overruns. Since the installation, Sun Path has been there for us, answering our questions always returning our calls.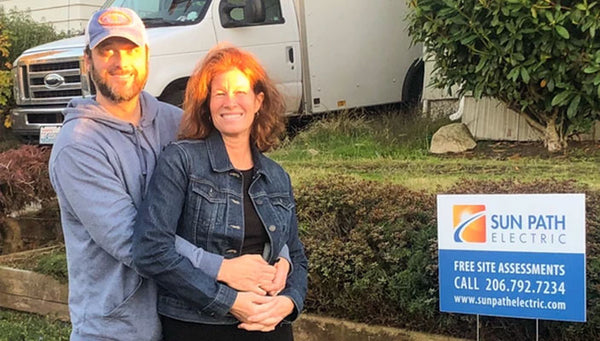 Erin Wilson, 8.54 kW Maple Valley Solar System
I have wanted to install solar for years but honestly, the process seemed overwhelming. Sun Path Electric made the process incredibly easy and seamless. They were very responsive, helpful, knowledgeable and overall the best to work with. I highly suggest giving them a call. You won't regret it!!
Hoa and Joe Pantastico, 9.3kW Kent Solar System
I hadn't imagined going solar would be so easy. With Sun Path Electric, the process was smooth from start to finish - from figuring out the financing, to understanding our different array options, to getting set up with all the fantastic incentive programs, and to setting up our production monitoring app (we're obsessed with the mobile app!). The folks at Sun Path Electric did a great job with the installation and were professional, easy to coordinate with, and friendly! On top of all that, I love that Sun Path Electric not only supports climate action directly through its business, but also by funding nonprofits focused on climate justice. Thank you Sun Path Electric for the great experience and for truly caring about environmental stewardship!
Robert Briggs, 11.8kW Vashon Solar System
We are totally delighted with our experience with Sun Path Electric. They were highly responsive to our request for a bid but never pressured us to buy before we were ready. Sun Path is a young company, so before becoming one of their first customers, I checked references. The references confirmed that owner Briggs Nieman has many years of experience doing solar installations as well conventional electrical work. One architect called Briggs, his "go-to guy for anything solar." Sun Path Electric is in the solar business for all the right reasons, and their integrity and commitment to building a sustainable future for our communities is evident in how they do business. They've earned my highest recommendation.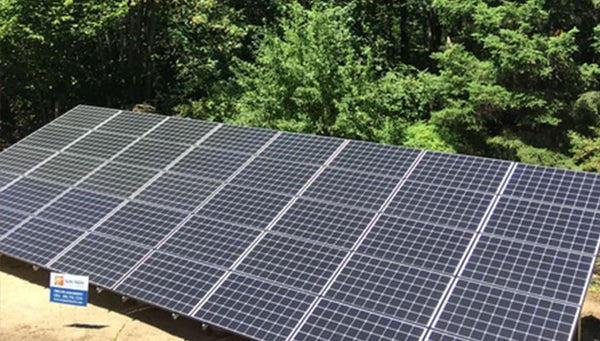 Bert Loosmore, 8 kW Mercer Island Solar System
Thanks Kristy and Briggs at Sun Path Electric for a great experience helping get our solar panels installed! The process was very smooth, and the options, generation, costs and rebates for different panels, inverters, etc. was very clear. It is great working with people who are so passionate and knowledgeable. The system is running well. I highly recommend them to anyone considering solar. And everyone should be!
Cole Brodman, 12 kW Bellevue Solar System
The Sun Path team is awesome. They were responsive, explained the options well, and were on time and on budget. Since the install, my bills, even in the winter, are down 50% and more. Good for the planet, good for the future of your children, and good for your pocketbook!