Sun Path Electric is in the Seattle Times!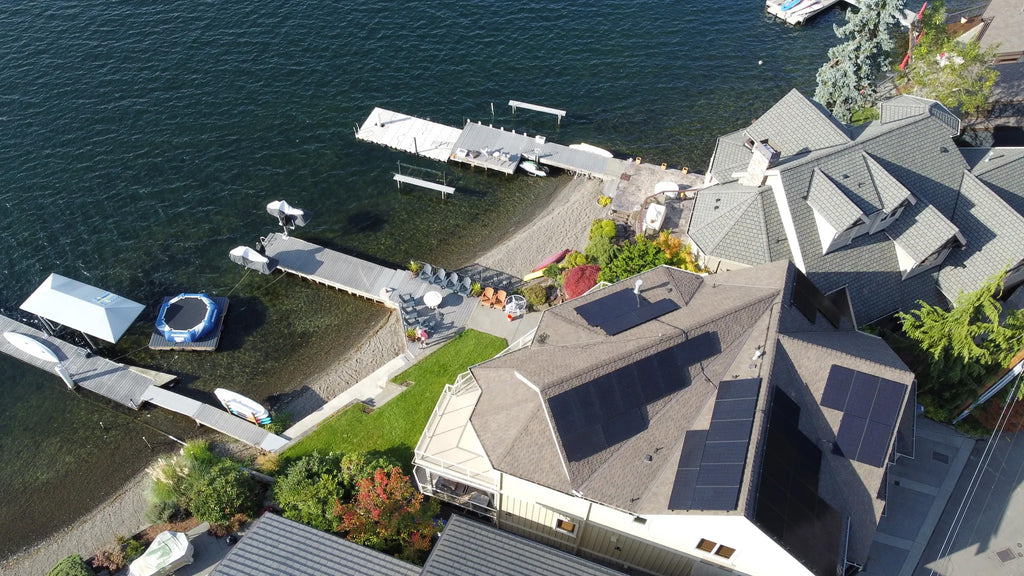 Seattle Times, March 17th, 2023
by Erica Browne Grivas
Maybe you are concerned about rising energy costs, have considered buying an electric car or just want to find a more environmentally friendly way to power your home. There are a lot of reasons solar power suddenly seems more seductive. Here's what you need to know and how to find the right solar installer.
"There's so much interest, not just in Washington, but across the country," says Kristy Royce, co-founder and president of Sunpath Electric, a company based in West Seattle.
Solar is growing fast in Seattle, too. Puget Sound Energy has seen the number of customers jump from 10,000 in 2020 to 17,000, said Leslie Moynihan, PSE's product manager for customer-connected solar.
A major driver is that solar is a lot less costly than when mass production began rolling out in the 60s, and state and federal incentives are helping to make it more accessible. In 2021, the U.S. reached a record 3 million installations.
The benefits
Using a renewable, infinite resource
The potential to drop monthly electric bills
Powering electric vehicles from home
With an optional battery installed, having access to power if the power grid fails
Selling your house faster — solar-equipped houses sell 20% faster than those without, according to

 

Forbes.com
Intrigued? To see if your home is a contender for solar, plug your address into Project Sunroof on Google, and it will estimate your available sun, savings and costs whether you pay upfront, lease or get a loan.
Royce says she thinks Project Sunroof, likely using national statistics, tends to overestimate costs and underestimate savings. Our roof, for example, set in a sunny, open location without much tree cover, gets 1,330 sunlight hours per year, and the site estimates that if we paid $19,000 up front, we would save a total of $2,000 over 20 years — after incentives.
Pro tip: If your roof needs fixing, do that first. You want your roof to last at least 10 years, Royce estimates, so you don't have to bring solar contractors back to reinstall your panels.
Savings costs are determined by the amount of sun your roof can capture relative to your energy usage and your tax payments. Consider how long you'll live in the house and how much longer you'll be working.
"Let's say you get a $30,0000 solar system, you would then be eligible for a $9,000 tax credit," Royce says. "If you haven't paid $9,000 into the federal system, it will take longer," to earn that credit if you're retired, for instance.
"I would say a typical payoff now on a good roof with a simple design is anywhere from 10-12 years," she says.
Very steep or dormered roofs boost construction costs.
While you may be able to drop your electric bill to next to nothing, the installation costs, however, remain hefty. Even if you can cover 100% of your electric costs over time, savings are not the primary reason to go solar.
"I like to say you are buying versus renting your power," says Royce, adding that it protects you against increased power prices — especially if you are an electric car owner. "I have an electric car, and I don't pay for gas."
Perhaps most importantly, it's good for the planet.
"It's a very tangible thing you can do around climate change," Royce says. "Our clients say that all the time — it just makes them happy."
Take your time to investigate your options. Fast industry growth brings commercial opportunity — and with it some sketchy sales tactics — so don't rush to sign with the first company that knocks on your door or pops up on social media.
"I am a huge proponent of solar and it does and can work well for homeowners in the Pacific Northwest," says Moynihan," but notes, "There are a lot of predatory and aggressive sales tactics out there. We have had folks who have been recently widowed and have been preyed upon for really expensive loans."
"We want to help our customers to be knowledgeable and help them make an informed decision," Moynihan says. "If you have someone at your door and it sounds too good to be true, it probably is. Don't let them pressure you into signing a loan agreement today."
Her main recommendation: "First and foremost is: do your homework, reach out for information from utilities, and always, always get multiple bids."
PSE offers a list of recommended contractors online.
Royce recommends seeking out a local installer who is a member of Washington Solar Industries Association.
She says it's worth looking for a warranty on workmanship (SunPath's is 10 years), transparency about all the costs and materials, NABCEP (North American Board of Certified Energy Practitioners) certification and no hard sales tactics.
The incentives
The Federal Investment Tax Credit currently returns 30% of your solar system costs through 2032 — any unrecouped costs can carry over to the next year without a cap.
Washington charges no sales tax on residential solar systems.
The state offers net metering to allow you to use the power grid when you need to, meaning your excess energy is sent to the power utility, earning credits to cover your power needs on rainy days. It acts like a piggy bank for power. This is guaranteed until the number of customers reach the state's capacity. While it is currently at 77% according to Washington State University, Puget Sound Energy says it is confident net metering will remain through 2023 and has "no plans to discontinue opportunities for customers to interconnect to the grid or to use the power they generate." Moynihan also notes the state legislature is discussing ways to extend net metering.
Another tip is: While the idea may be tempting to accumulate extra power, it doesn't pay to build extra panels. Only add the panels you need to offset your costs. Excess energy can't be exchanged for money, and credits don't roll over past March 31 yearly, so no need to start adding panels on your shed and doghouse.