6 Questions to Ask as You Consider Home Solar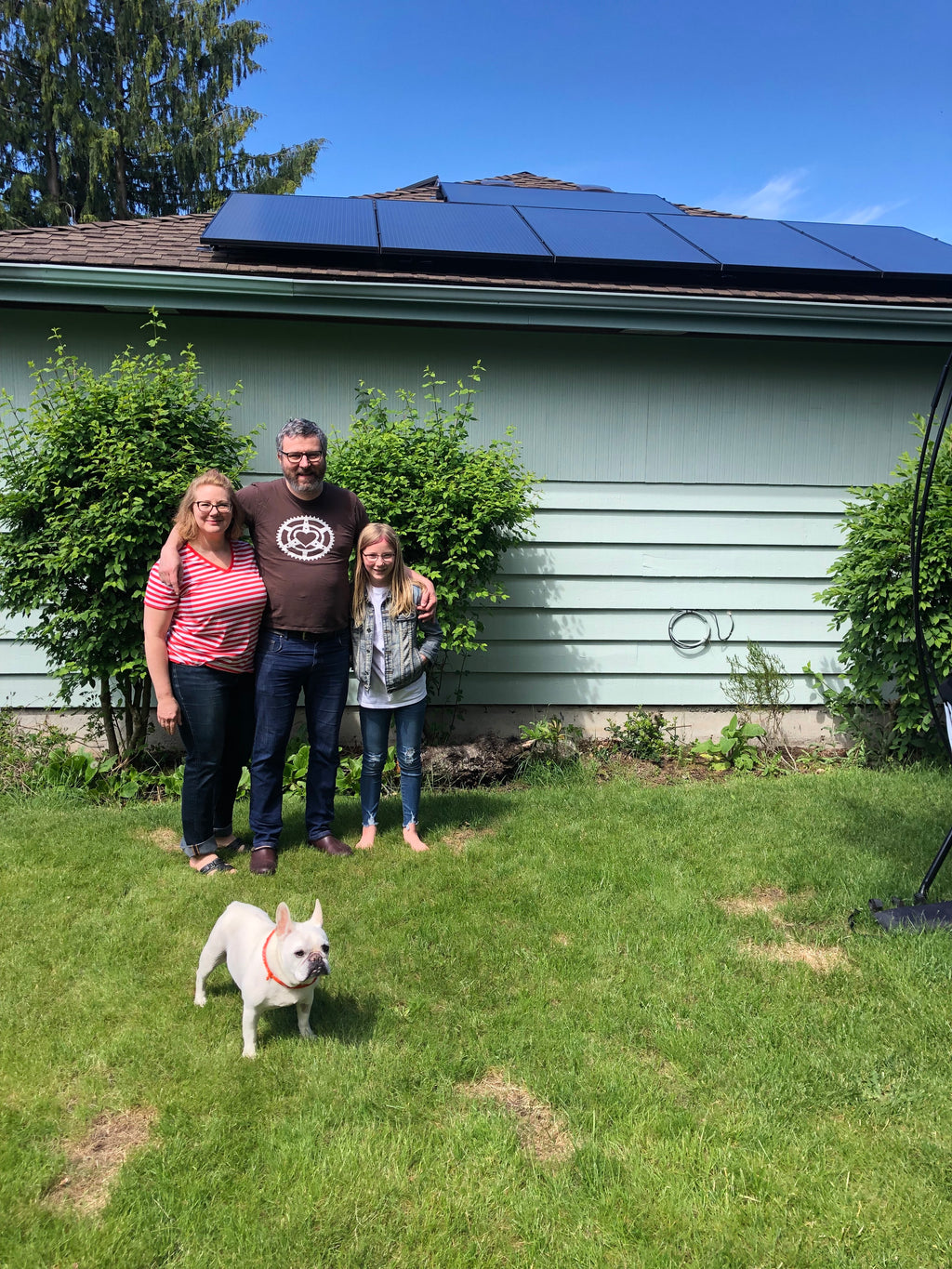 Considering residential solar installation for your home? Ask these questions to help avoid common pitfalls.
Solar power can be an attractive prospect for homeowners and shoppers. Home solar technology offers resilience, electricity bill savings and more energy independence. For the environmentally conscious, it provides an eco-friendly alternative to existing electricity sources. What's more, Zillow research indicates listings that highlight eco-friendly features sell up to 10 days faster, and homes with solar panels can sell for 1.4% more.
But shopping or even researching home solar installation services can often feel daunting. Aggressive, misleading advertising and predatory practices abound, some of which even bear official-sounding names and exploit government programs meant to incentivize green home improvements.

Zillow research indicates listings that highlight eco-friendly features sell up to 10 days faster, and homes with solar panels can sell for 1.4% more.
Thankfully, as the market matures, reputable installers are rising to the top. This primer will discuss tips on how to identify them, whether or not your situation may be suitable for solar, how to look into incentives, ways to store the extra electricity your system creates, and cost estimates. 
1. Is my home suitable for home solar?
While exceptions to this rule exist (more on that later), you'll enjoy the most benefit from home solar if you're a homeowner who lives in a single-family home and has access to roof space or land that's not shaded from trees or other obstructions.

There are other considerations. South-facing roof surfaces or ground arrays will generate energy most efficiently, but you can utilize solar energy regardless of the direction your roof surfaces face. Your climate matters — the more sunny days your roof sees, the more electricity you can generate — but solar can be viable in even the most overcast skies of the United States.
Takeaway: Homeowners of single-family homes that have unshaded roof space or land are in the best position to benefit from a professional solar system installation, but other options exist.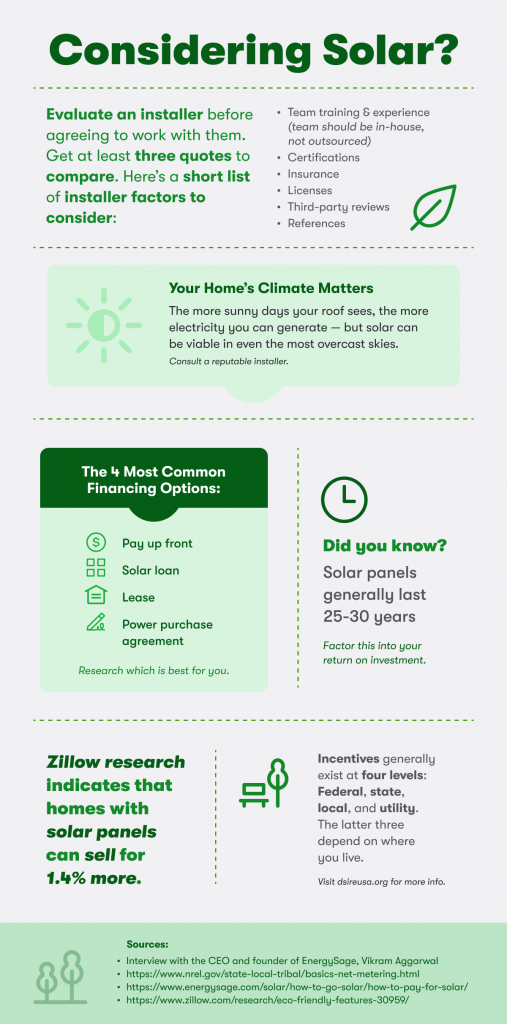 Additional considerations
What's the condition of your roof?
If you're looking at solar for an existing home, consider when your roof might need to be replaced. If your roof is nearing the end of its life, talk to an installer, says Vikram Aggarwal, CEO and founder of EnergySage, which helps consumers compare solar installers. You may want to get your roof replaced first, or get the work done in conjunction with your solar installation.
Some solar installers now offer roof replacement with installation services, or they partner with roofing companies. At the very least, solar installers should be able to provide referrals for reputable roofers. Since solar panels generally last 25-30 years, you'll want to time both jobs accordingly.

If you're building, discuss a solar integration with your builder sooner than later.

Does your homeowners association have any rules regarding solar?
While some HOAs may restrict or outright prohibit solar system installation, many states are adopting so-called "solar access" laws, which may override HOA rules. The DSIRE database, which offers an interactive, state-by-state breakdown of renewable energy policies and incentives, can help you research your situation. Elsewhere, the Solar Energy Industries Association offers a guide to overcoming HOA objections.

What about solar shingles?
Solar shingles or tiles — which look much closer to traditional roofing materials, but still produce energy — may be another workaround if your HOA has restrictions. Popularized by Tesla's Solar Roof, this technology is still emerging, so it's more difficult to calculate a cost-benefit analysis or return on investment. 
"It's definitely a more nascent and very minor part of the residential solar installation space today," says Garrett Nilsen, acting director for the U.S. Department of Energy Solar Energy Technologies Office. Regarding how long these newer systems last and perform over time, "the best information being provided is by the developers of those products themselves. There's still more time needed to really understand their performance over the long run."
DIY or professional installation?
Your overall energy bill may influence whether you decide to work with a professional installer or opt for a DIY installation. Households with smaller monthly electricity bills will have a harder time finding willing installers, because the fixed costs of an installation can run high, says Vikram Aggarwal. "Anything below $50 a month, around the country, and it becomes very difficult to get solar contractors to be interested."
What if home solar installation isn't viable for me?
Lastly, if you or a professional installer determine that your situation isn't suitable for solar or you don't own your home, you may still be able to benefit from solar through a community solar program. 
More resources: Existing homeowners can get started by searching their address with Google's Project Sunroof. The Office of Energy Efficiency and Renewable Energy maintains the Homeowner's Guide to Going Solar.
2. How do I find a reputable installer?
The experts we talked to repeatedly pointed to installers as the vanguards of a quality system installation and results. It pays, they say, to find one with a quality reputation.

A reputable installer should be able to answer all of your questions and concerns, whether they're about incentives, storage and batteries, your potential return on investment, or financing. Do the due diligence: Read the fine print and get everything in writing. With solar energy system installation, the old saying holds: If something sounds too good to be true, it probably is.
"The number one thing is to look at installers' experience," says EnergySage's Aggarwal. "Number two is the quality of their team. What kind of training do they have? Do they have in-house installation teams, or do they outsource it to someone else? Do they carry the industry-leading certification from an organization called NABCEP? What kind of insurance do they have? Do they have all their licenses up to date?"

Then, just like you would any other business, check their online reviews. "Check the reviews on Yelp or any other trusted, third-party platform," says Aggarwal.

Other things to assess, says Aggarwal, are the warranties that installers offer and the quality of equipment they install. "Is it top of the line, middle of the line, or economy class? And are they a recommended dealer for the major manufacturers?"
"The number one thing is to look at installers' experience." – Vikram Aggarwal, CEO and founder of EnergySage
Lastly — and this is a big one — can your installer provide references? At the least, their website should show testimonials from real people. But better yet, they should be able to connect you to happy customers who'll vouch for them.
Takeaway: Evaluate an installer before you agree to work with them. Get at least three quotes to compare. Here's a short list of factors to consider:
Team training (team should be in-house, not outsourced)

Team experience

Certifications

Insurance

Licenses

Third-party reviews

References
3. What home solar incentives are available in my area?
Incentives generally exist at four levels: Federal, state, local, and utility. What's offered largely depends on where you live.

"The big takeaway is to get information, information, information," says Nilsen, again highlighting the importance of working with knowledgeable installers. "Reach out to multiple installers, ask what incentives are available in your area."

Here, Nilsen again suggests the DSIRE interactive, state-by-state breakdown of renewable energy policies and incentives.
The Solar Investment Tax Credit (ITC)
The ITC is a federal policy that allows you to deduct installation costs from your federal taxes. It provides a 26% tax credit for systems installed in 2020-2022 and 22% for systems installed in 2023. It expires starting in 2024, unless Congress renews it.

The ITC is a dollar-for-dollar reduction in the amount of federal income tax you might otherwise owe. Check out the Office of Energy Efficiency & Renewable Energy's comprehensive breakdown for frequently asked questions and more details.

Takeaway: Depending on your location, incentives may exist at the federal, state, local, and utility level. The ITC is the big one, but its future is not guaranteed.
4. Is net metering available in my area?
Net metering, the billing mechanism that essentially gives you credit for the excess electricity your home solar system generates, isn't available everywhere. Check with your utility company before making any binding decisions.
The complicated dynamic tends to fuel a common misunderstanding — that your system can actually make you money. This is very rarely true, and companies that advertise or suggest it should be viewed with serious scrutiny.
If your area does offer net metering, it can provide you the benefit of power resilience. Since your system isn't a constant source of electricity — it doesn't generate at night, and it generates less during cloudy days, for example — you'll end up using those credits when your system is off its peak hours, days, or months.

Takeaway: Where it's available, net metering can be a way to share excess energy to the grid your home is connected to. This sharing is credited to your account, and you can use that credit when your home needs it.
5. Do I need batteries or storage?
Batteries and local storage are another way to store energy produced by solar panels. For now, solar batteries are the most common on-site way to store the unused electricity your system creates. You may hear people refer to this as electrochemical storage.

There are several benefits to storing solar energy, the most obvious being that it's there in the case of a power outage or when the sun isn't shining. A few more technical factors — like whether or not one-to-one net metering is available to you, or if you're subject to complex utility rates — are also worth considering.
Seasonal storage, a term for methods that store energy for longer periods of time, is a prospect with vast potential, but it's not yet widely available to consumers. Ask your prospective installers about what's right for your situation. Again, they should be well versed in the pros and cons; just remember that they may have an interest in selling you more system than you actually need.

Takeaway: Solar storage may make sense if you experience frequent power outages, although other more complex factors also apply. 
6. Is home solar worth it?
Ultimately, every homeowner will need to answer this question for themselves. The number of variables makes every assessment unique. Calculators like Project Sunroof or EnergySage's Solar Calculator can give you a starting point. Nuanced estimates from reputable installers will give you a clearer picture.
In 2020, homeowners typically spent between $10,000 and $20,000 to install a solar panel system, according to EnergySage. Savings over the course of the system's life may compensate for those costs. 
If you decide to move forward, there are several ways to pay for the equipment. Buying your system upfront will generally give you a lower total cost than using a solar loan, lease, or power purchase agreement. If you do take a loan, monthly loan payments are often smaller than a typical energy bill.